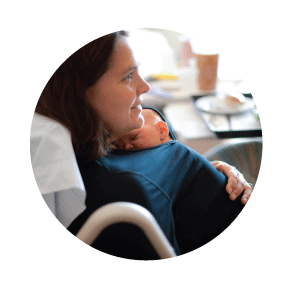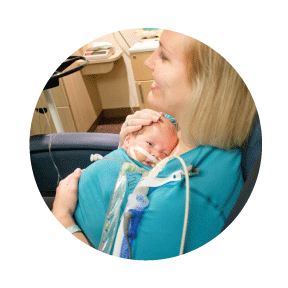 POSTPARTUM MOTHER / BABY UNITS
NEONATAL INTENSIVE CARE UNITS
IMPROVING CARE IN THE NICU
HELPING HOSPITALS SAFELY KEEP MOM + BABY CLOSE THROUGH SKIN-TO-SKIN CONTACT
Implementing the Pocket as a Kangaroo Care support device in your unit will help increase time spent
Skin-to-Skin, improve infant safety, increase breastfeeding rates + scores, raise patient satisfaction +
HCAHPS scores, and fosters the Family-Centered Care Model.
WHY NUROO IS THE #1 CHOICE OF HOSPITALS



LOWERS RISK OF INFANT FALL

Skin-to-skin contact triggers oxytocin release in caregivers making them susceptible to falling asleep. Mothers are exhausted from birthing. This combination makes infant falls during skin-to-skin time a serious concern that providers must mitigate. The Pocket safely maintains proper position + reduces risk of drops / falls




TOXIN FREE + LATEX FREE

Does not contain toxins, natural rubber or natural rubber latex.




INSTITUTIONAL LAUNDERING

Designed for In-Hospital use and can be laundered using the same methods as general institutional linens.



QUALITY GUARANTEE

Listed with FDA as a
CLASS 1 MEDICAL DEVICE

PATENTED DESIGN

Exceeds US + International Safety Standards




BREATHABLE + MOISTURE

WICKING COMPRESSION FIT

Our fabric is designed to create a compression fit that hugs baby to the wearer's skin, recreating that womb-like, "held" feeling and keeping baby safe + secure. Breathable, moisture-wicking fabric keeps both mom and baby cool and dry.




CERTIFIED INFANT CARRIER

he first and only skin-to-skin carrier to adhere to ASTM sling/carrier standards, passing retention testing up to 45 pounds. The wearer is hands free and can be up and on their feet. A great parting gift to send home with mom + baby, encouraging ongoing skin-to-skin contact.
Hospitals using the NüRoo Pocket

As hospitals work to improve their practice of skin-to-skin as an evidence-based standard of care in neonatal intensive care units, some concerns have surfaced. Physiologically,
skin-to-skin contact triggers oxytocin release in caregivers, making them susceptible to falling asleep. Caregivers (both mothers and fathers) are entering skin-to-skin care already tired from the emotional toll of having a premature infant in the NICU. Several factors put infants at a higher risk of being dropped or falling if the caregiver is not wearing a support device.
Reducing the incidence of infant drops and falls is a key objective for hospitals, and has been cited by the Joint Commission as a National Patient Safety Goal.(3) Hospitals are called to achieve two aims: provide the best care for mom and baby (including skin-to-skin) while keeping their patients safe. The NüRoo Pocket allows for baby to maintain proper positioning during skin-to-skin while accomodating all necessary medical equipment and attachments.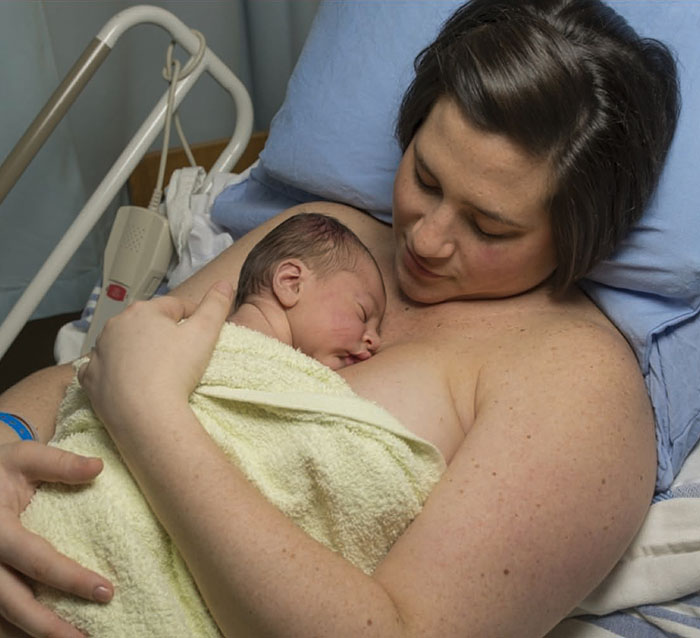 INSTRUCTIONS FOR USE IN THE NICU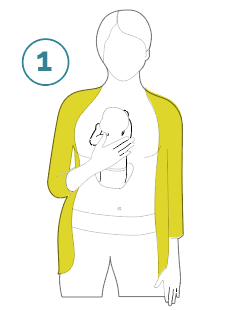 PUT ON YOUR
NÜROO
Open all closures and put the carrier on. While receiving assistance during a standing or seated transfer, position baby vertically, high up on your bare chest.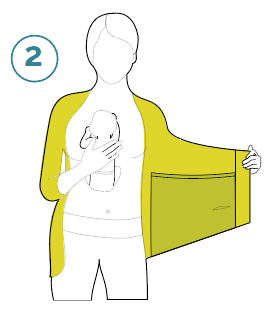 POCKET USE
OPTIONAL
If baby is connected to any lines, leads or ET tubes, do not place baby's legs in the pocket. All equipment should be able to freely exit through bottom of carrier. Secure closure at inseam.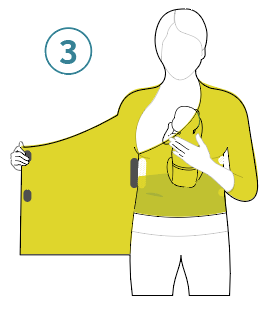 CROSS + HUG
CLOSURES
Wrap right side to left seam closures for your perfect fit. Check that baby's shoulders are above your breasts, head is turned to one side, and face is unobstructed by fabric or breast tissue.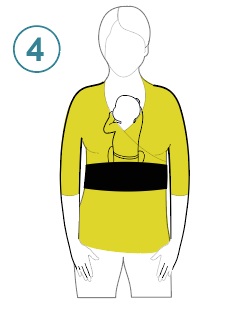 USE SUPPORT BELT
WHEN MOBILE.
To use as a hands free infant carrier, baby's legs should be positioned inside the pocket. After following step 3, place belt under baby's bottom and fasten around you, securing closure around the back.
SAFETY CHECK
Baby Should Always Be Visible and Kissable
Look » Always ensure that baby's nose and mouth are visible and chin is not resting on baby's chest. Baby's head should be turned to one side, resting on wearer's chest.
Listen » Make sure baby is breathing comfortably.
Feel » Baby's legs should be bent at the knees and frogged against your skin, as well as full chest to chest contact, with baby's arms out stretched.
ET Tube or Critical Lines can be secured by use of our tubing clip to the top shoulder seam.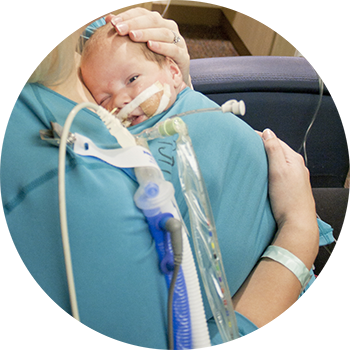 Lines or leads can easily exit through the bottom of the garment without needing to be manipulated or disconnected.
Room for Twins
Mom's breasts are able to independently regulate baby's temperature. Always ensure that each baby is positioned directly over a breast and that their head and neck are supported within the garment's neck line.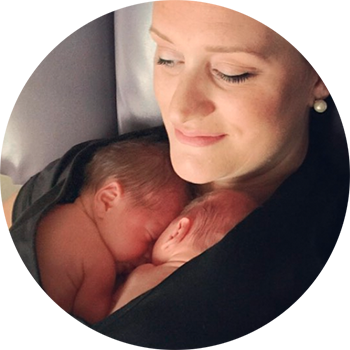 PRODUCT DETAILS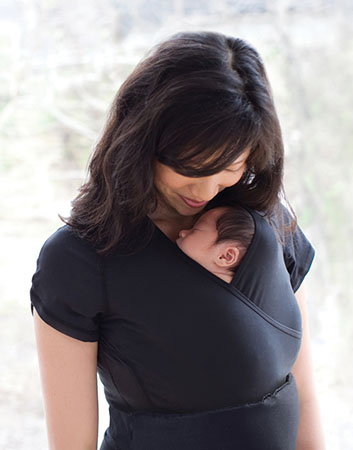 POCKET CARRIER – SHORT SLEEVE
BLACK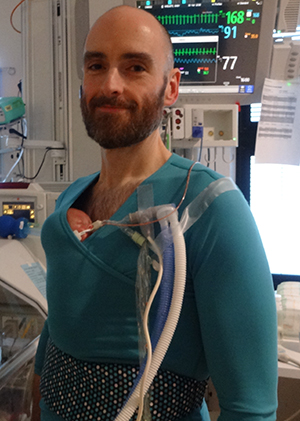 POCKET CARRIER – 3/4 SLEEVE
TEAL
The NüRoo® Pocket is a patented, hands-free skin-to-skin carrier that offers full coverage and mobility for moms and dads practicing skin-to-skin contact with their preemie or newborn. Extremely easy to get baby in and out of, without wrapping, tying or knotting. The 'cross and hug' closures provide a custom fit as mom's body changes and baby grows. Our signature NüRoo® fabric is super soft, breathable, moisture-wicking and offers just the right amount of compression to ensure proper position and continued support for both the wearer and baby. It adheres to the sling carrier standards, which means it's been tested up to 45 pounds.
Retail Pricing: $62.99
Please reach out to inquire about hospital pricing and to obtain your free sample