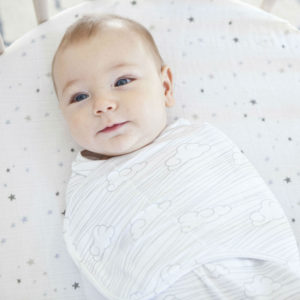 No Images.
Please upload images in images manager section. Click on Manage Images button on the right side of the gallery settings.
Please make sure that you didn't enabled option: Images of the Current Gallery. Option should have Show value to show images.
THE NÜROO SWADDLER
Is your safe sleep champion looking for a welcome gift for mom + baby upon delivery or simply looking to transition from swaddle blankets to a form swaddle? The NuRoo Swaddler is a great option. Swaddling baby in the hospital and at home has never been easier – for nursing staff and parents alike. Simply place baby in the Swaddle and secure the wings across baby's chest. Hook and loop closures ensure baby stays in the swaddle without the risk of a loose blanket around baby's face. Customized with your hospital logo or not, the Swaddler is a practical, easy to use and fun gift for families delivering at your birth center. Comes in retail packaging and sold in hospital based gift shops too!
About our Swaddler
Gone are the days of purchasing multiple swaddles in every size! The NüRoo Swaddler is the only swaddle families need from birth till when baby rolls. With two interior pockets and a removable seam to extend its length, the NüRoo Swaddler grows with baby. Our 3 sizes in 1 design eliminate excess material – a potential cause of suffocation – to provide the perfect fit at every stage, keeping baby safe and secure for a sound night's sleep. A wide hip pocket allows baby to flex and kick, reducing the risk of hip dysplasia. Signature fabric is breathable and moisture-wicking to prevent overheating, a risk factor for SIDS.
Available Colors :
Scalloped Stripe Swaddle
Goodnight Stars Swaddle